Nopali Help
Using the Office Files Panel
You can think of the Office Files panel as a location where files can shared within the office (a networked drive). Files can be dragged into the panel from the Finder in order to save them in a central location accessible to all of the users on the database.
Press the Office Files toolbar item to see this panel:

Office Files Toolbar Item
Pressing the toolbar item will reveal the Office Files panel: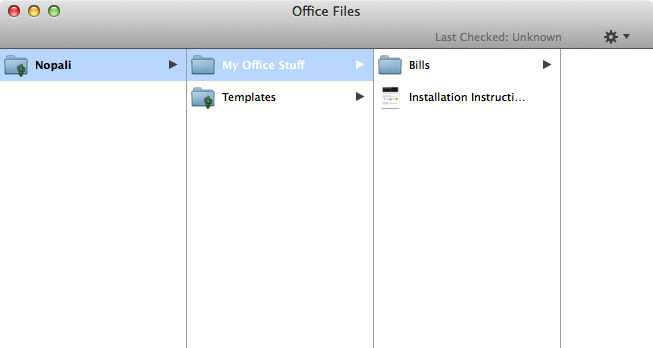 Office Files Panel
The panel uses the familiar Finder browser layout. You can create new folders by pressing using the action button:

Action Button
To populate a folder, just drag and drop files from the Finder.
The Office Files panel also contains special folders manged by Nopali. These typically have a small Nopali image on the icon:

Special Folder Managed By Nopali
One very special folder of interest if the Templates folder. Nopali keeps all the template files in subfolders here, and uses them for printing documents. You can browse the templates that you have downloaded. If you like the template, but find that it needs some editing, you can drag the template to your desktop, edit it and then drag the edited file back into the original source folder.